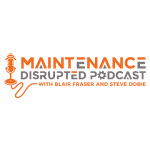 RRP 131 Learnings from Three Years of Implementing Artificial Intelligence with Vinodh Rodrigues & Xiaozhou Wang
In this week's episode of Technology Disruption, a Rob's Reliability Project Podcast, Blair welcomes Vinodh Rodrigues and Xiaozhou Wang from Quartic.ai to discuss what they have learned after three years of implementing AI for maintenance and reliability use cases. If you are currently implementing AI or curious about how to go about it, this podcast is well worth your time!
You can connect with our Guests here:
Vinodh Rodrigues – https://www.linkedin.com/in/vjrodrigues/
Xiaozhou Wang – https://www.linkedin.com/in/xiaozhou-wang-2aa1735a/
For more information on Quartic.ai – www.quartic.ai
If your company sells products or services to engaged maintenance & reliability professionals, tell your marketing manager about Rob's Reliability Project.  If you'd like to discuss advertising on my content, please email me at robsreliabilityproject@gmail.com
Check out my website robsreliability.com and sign up for the weekly reliability newsletter with bonus content. If you like the show, please tell your colleagues about it and follow Rob's Reliability Project on LinkedIn and YouTube.
Follow Rob's Reliability Project on LinkedIn – https://www.linkedin.com/company/robsreliabilityproject/
Follow Rob's Reliability Project on Facebook – https://www.facebook.com/robsreliabilityproject/
Music: The Descent by Kevin MacLeod
Link: https://incompetech.filmmusic.io/song/4490-the-descent
License: http://creativecommons.org/licenses/by/4.0/