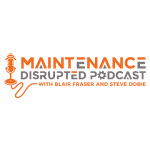 MD 159 Thinking Differently About How Business Asset Questions Are Answered
Welcome back to another episode of the Technology Innovations series of the Maintenance Disrupted Podcast where we look at the people and technology fueling Industry 4.0. In this episode, Blair Fraser sit down with Dane Boers of Modla to talk about the digitization of asset knowledge.
In this episode, we discuss the typical approach to answer questions like what should my budget be next year or what predictive monitoring technology should I utilize. It doesn't take long to realize that most of the questions get answered from the foundation knowledge that exists in exercises like FMECA and RCM but more concerning is the amount of information in people's head, SME knowledge. But how do you get it out? How do you have repeatability in your answers? Take a listen to this new approach to answering questions using asset modeling.
Connect with our Guest Here:
Dane Boers – https://www.linkedin.com/in/daneboers/
If your company sells products or services to engaged maintenance & reliability professionals, tell your marketing manager about Maintenance Disrupted.  If you'd like to discuss advertising, please email us at maintenancedisrupted@gmail.com
Check out our website at www.maintenancedisrupted.com and sign up for the weekly disruption newsletter with bonus content. If you like the show, please tell your colleagues about it and follow maintenance disrupted on LinkedIn and YouTube.
Follow Maintenance Disrupted on LinkedIn
https://www.linkedin.com/company/maintenancedisrupted
Music: The Descent by Kevin MacLeod
Link: https://incompetech.filmmusic.io/song/4490-the-descent
License: http://creativecommons.org/licenses/by/4.0/