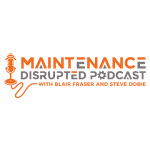 MD 165 Journey to Reliability: The Roadmap for Success with Dan Moss
Over the past decade, facility equipment reliability has been elevated from an often vague ideal to a mission-critical goal with benefits that outweigh both cost and complexity. As a result, well-run organizations now consider reliability to be an important element of their strategic and tactical plans and initiatives. This new reality impacts nearly every function, from procurement to maintenance, repair, and operations inventory management.
Over the same period, savvy plant management has also embraced the philosophy that maximum reliability requires more than well-functioning equipment. What other correlated activities must organizations also engage in?
In this week's episode of Maintenance Disrupted, Blair Fraser welcomes Dan Moss, VP Operations at Performance Consulting Associates otherwise known as PCA to talk about the Journey to Reliability: The Roadmap for Success.
You can connect with PCA here:
https://www.linkedin.com/company/pcaconsulting/
Email Dan here: moss@pcaconsulting.com
If your company sells products or services to engaged maintenance & reliability professionals, tell your marketing manager about Maintenance Disrupted.  If you'd like to discuss advertising, please email us at maintenancedisrupted@gmail.com
Check out our website at www.maintenancedisrupted.com and sign up for the weekly disruption newsletter with bonus content. If you like the show, please tell your colleagues about it and follow maintenance disrupted on LinkedIn and YouTube.
Follow Maintenance Disrupted on LinkedIn
https://www.linkedin.com/company/maintenancedisrupted
Music: The Descent by Kevin MacLeod
Link: https://incompetech.filmmusic.io/song/4490-the-descent
License: http://creativecommons.org/licenses/by/4.0/