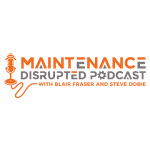 MD 143 You CAN collect TOO MUCH time series data!!! with Jim Gavigan
This week's guest I had stumbled upon in my endless scrolling through linked in. The title of this person's article was 'Rant – you can collect too much data. As someone in AI and IIoT is could have not disagreed more with this person, until I watched his video, and now, I changed my mind!
This week I welcome the Timeseries Data Storyteller, Jim Gavigan to the show to discuss all things data, how to store it, what to do with it, and what not to do with it.
Connecting with our Guest Here:
Jim Gavigan –  https://www.linkedin.com/in/jimgavigan/
If your company sells products or services to engaged maintenance & reliability professionals, tell your marketing manager about Maintenance Disrupted.  If you'd like to discuss advertising, please email us at maintenancedisrupted@gmail.com
Check out our website at www.maintenancedisrupted.com and sign up for the weekly disruption newsletter with bonus content. If you like the show, please tell your colleagues about it and follow maintenance disrupted on LinkedIn and YouTube.
Follow Maintenance Disrupted on LinkedIn
https://www.linkedin.com/company/maintenancedisrupted
Music: The Descent by Kevin MacLeod
Link: https://incompetech.filmmusic.io/song/4490-the-descent
License: http://creativecommons.org/licenses/by/4.0/