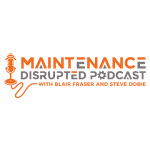 MD 147 Fiix and Nanoprecise Unite
The importance of partnerships not only from a vendor to a customer but from vendor to vendor to create a holistic approach to maintenance and reliability is what is driving industry 4.0. Solution providers are now being pushed from customers to be open, to be able to connect their solutions with others to provide better asset performance management.
This week we welcome Graham Kawulka from Nanoprecise and Sandy D'Souza from Fiix software to the show. Through a recent partnership, Fixx and Nanoprecise have made it easier than ever for organizations to monitor the health of equipment in real-time, detect anomalous behavior, automatically trigger maintenance activities, and generate in-depth reports on asset performance and condition.
This podcast speaks to the shift of open by design ecosystem of solution providers coming together to solve a greater problem in our facilities.
Connect with our Guest Here:
Graham Kawulka – https://www.linkedin.com/in/graham-kawulka-0b851122/
Sandy D'Souza – https://www.linkedin.com/in/sandyd3/
If your company sells products or services to engaged maintenance & reliability professionals, tell your marketing manager about Maintenance Disrupted.  If you'd like to discuss advertising, please email us at maintenancedisrupted@gmail.com
Check out our website at www.maintenancedisrupted.com and sign up for the weekly disruption newsletter with bonus content. If you like the show, please tell your colleagues about it and follow maintenance disrupted on LinkedIn and YouTube.
Follow Maintenance Disrupted on LinkedIn
https://www.linkedin.com/company/maintenancedisrupted
Music: The Descent by Kevin MacLeod
Link: https://incompetech.filmmusic.io/song/4490-the-descent
License: http://creativecommons.org/licenses/by/4.0/