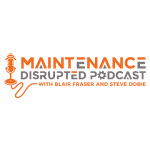 MD 153 IoT Enabled Connected Breather with Roy Giorgio from Des-Case
Unlike any breather on the market, The Des-Case Connected Breather has eliminated the subjectivity of color-changing desiccant media, allowing you to know the exact moment your breather is fully spent and should be replaced. Sensors inside the breather provides a precise digital reading of remaining breather life, saturation direction and breather temperature so the breather is never replaced too early or left on an unprotected asset.
In this week's episode on the Technology Innovation series of Maintenance Disrupted,  Blair Fraser talks with Roy Giorgio from Des-Case about a very important but often overlooked aspect of rotating equipment life by ensuring your lubricants are protected from harmful moisture and particulates with breathers. But can these seemingly simple devices become smarter? Yes, with the addition of key moisture, temperature, and battery sensors you can maximize the life of the breather and gain insights into your equipment health that was previously, not available.
Connect with our Guest Here:
Roy Giorgio – https://www.linkedin.com/in/roy-giorgio-9ba16b101/
 If your company sells products or services to engaged maintenance & reliability professionals, tell your marketing manager about Maintenance Disrupted.  If you'd like to discuss advertising, please email us at maintenancedisrupted@gmail.com
Check out our website at www.maintenancedisrupted.com and sign up for the weekly disruption newsletter with bonus content. If you like the show, please tell your colleagues about it and follow maintenance disrupted on LinkedIn and YouTube.
Follow Maintenance Disrupted on LinkedIn
https://www.linkedin.com/company/maintenancedisrupted
Music: The Descent by Kevin MacLeod
Link: https://incompetech.filmmusic.io/song/4490-the-descent
License: http://creativecommons.org/licenses/by/4.0/