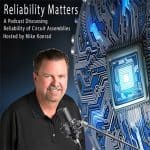 A Conversation with SPI and AOI Inspection Expert Joel Scutchfield
My guest today is Joel Scutchfield. He's with Koh Young and has 35 years in the Printed Circuit Board Assembly Industry, beginning on the manufacturing side in 1986, first with Texas Instruments, and then later with United Technologies Corporation. In the mid 90's he transitioned to the supply side of the industry where he used his process and manufacturing experience to help customers implement the best Tools, Materials, Systems, and Solutions, for their PCB Assembly and Test applications. Over his career he held positions in the areas of Manufacturing Engineering, Process Engineering, Process Engineering Management, Operations Management, Sales Engineering, Regional Sales Management, Sales Business Ownership, and company-wide Sales management.
Joel guest graduated from Purdue University with a BS in engineering and industrial management.
Joel began his career with Koy Young as the Americas Sales Manager, a position he held from Dec 2014 – Jan 2019. In January of 2019, he was promoted to Director of Sales for the Americas where he served in that capacity until October of 2021 when he was promoted to General Manager of SMT Business Operations and Director of Sales for the Americas.
During our conversation, we discuss the benefits of solder paste inspection as well as automated optical inspection and how implementation of these technologies can provide higher degrees of assembly optimization, efficiency, and reliability.
Joel Scutchfield may be reached here:
joel.scutchfield@kohyoung.com
https://kohyoungamerica.com