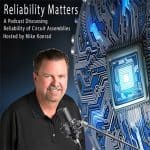 A Conversation with Author Dr. Ron Lasky About His Many Books
Dr. Ron Lasky talks about the many books he has authored on SMT processes and production efficiencies. 
Dr. Ron Lasky is a Senior Technologist at Indium Corporation, as well as a Professor of Engineering at Dartmouth College, where I have twice had the privilege of speaking on the Dartmouth campus to his students. If you're like some people who view the next generation of young adults skeptically and pessimistically, I can assure you your view would quickly change after spending time with his students. Dr. Lasky has more than 30 years of experience in electronics and optoelectronics packaging at IBM, Universal Instruments, and Cookson Electronics. Additionally, he has served as an adjunct professor at several colleges, teaching more than 20 different courses on topics ranging from electronics packaging, materials science, physics, mechanical engineering and science, and religion.
Dr. Lasky holds numerous patent disclosures and is the developer of several SMT processing software products relating to cost estimating, line balancing, and process optimization, all subjects of paramount importance in today's hyper-competitive environment. He is the co-creator of engineering certification exams that set standards in the electronics assembly industry worldwide. Dr. Lasky was awarded the Surface Mount Technology Association's (SMTA) Technical Distinction Award in 2021 for his "significant and continuing technical contributions to the SMTA." He was also awarded SMTA's Founder's Award in 2003.
Dr. Lasky holds four degrees, including a Ph.D. from Cornell University in materials science, and is a licensed professional engineer.
He has authored six books, and contributed to nine more, on science, electronics, and optoelectronics, and has authored numerous technical papers and today, I'm going to talk with Ron about some of those books.
Here's how to get Dr. Ron's books:
Handbook of Electronic Assembly and A Guide to SMTA Certification
https://smta.org/store/viewproduct.aspx?id=16304955
The Printed Circuit Assembler's Guide to Solder Defects
http://iconnect007.com/index.php?cID=852
Troubleshooting Electronic Assembly: Wisdom from the BoardTalk Crypt
https://www.amazon.com/Troubleshooting-Electronic-Assembly-Wisdom-BoardTalk/dp/1732283680
Patty and the Professor
https://www.mikekonrad.com/patty-and-the-professor
Dr. Ron's Contact Information:
ronald.c.lasky@dartmouth.edu