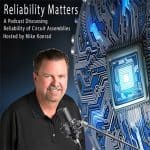 Cleaning Roundtable
On this episode, we're hosting a roundtable discussion on the subject of cleaning circuit assemblies after reflow. After all, contamination removal is exclusively performed to increase the reliability of circuit assemblies and the products they are installed in.
With the rapid expansion of electronics due partly to automotive and IOT, cleaning of circuit assemblies has increased dramatically and with that, challenges to cleaning have also increased. Because cleaning is commonly an "end of the line" procedure, it frequently falls victim to assembly procedures earlier in the assembly process. As a result, cleaning technology (equipment, chemical, processes), must be reactive to overcome the challenges presented by the assembly process.
Today, we're going to discuss some of the challenges to cleaning and to do so, I've recruited a panel of experts. Today's cleaning roundtable features a number of experts from Zestron, a company known for manufacturing innovative chemical solutions for the electronic assembly and semiconductor markets.