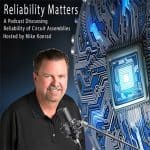 Liquid Metal's Potential Future in Electronics
Historically, circuit assemblies are rigid devices. IoT (Internet of Things) has opened up the opportunity to embed electronics into a near limitless array of form factors. Some of these form factors require the electronic assembly to be flexible such as in wearable and medical applications.
To complicate matters, The metal conductors on the assembly are rigid, and not flexible or malleable. That may change with the adoption of liquid metals. We were all exposed to the concept of liquid metal in the 1991 film Terminator 2. Will science fiction become reality?
My guest today is Dr. Michael Dickey. Michael is currently the Camille and Henry Dreyfus Professor in the Department of Chemical & Biomolecular Engineering at NC State University.
Michael Dickey received a BS in Chemical Engineering from Georgia Institute of Technology and a PhD from the University of Texas. From 2006-2008 he was a post-doctoral fellow in the lab of Professor George Whitesides at Harvard University. Michael completed a sabbatical at Microsoft in 2016. Michael's research interests include soft matter (liquid metals, gels and polymers) for soft and stretchable devices (electronics, energy harvesters, textiles, and soft robotics), and hopefully, for the sake of humanity, not liquid metal T1000 villains.
Dr. Michael Dickey's Contact Information:
mddickey@ncsu.edu
Link to Michael Dickey's TED-X Talk:
https://www.youtube.com/watch?v=lfUnK_rME8E