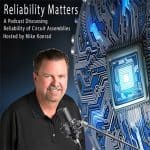 A Conversation About Tombstoning Mitigation with Tony Lentz
Tombstoning is a reflow issue causing components to stand up, creating opens. FCT Solder's Tony Lentz discusses the causes and mitigation techniques to illuminate tombstoning. 
Tony Lentz has worked in the electronics industry since 1994. He entered the industry as a process engineer at a circuit board manufacturer and worked there for 5 years. Since 1999, Tony has worked for FCT Companies as a chemical laboratory manager, production facility manager, and most recently a field application engineer. Since 2013, Tony has focused on field application and R&D for FCT Assembly solder and stencil products.
Tony has extensive experience in research and development, quality control, and technical service with materials used to manufacture and assemble printed circuit boards. Tony has published and presented many papers at industry events. Tony is a speaker of distinction with SMTA, and participates in IPC J-STD-004 and J-STD-005 standards development task groups.
Tony holds B.S. and M.B.S degree in Chemistry. Tony was my guess way back in episode 32 (56 episodes ago) where he talked about stencil design and void reduction.
Tony produced a DOE on the subject of tombstoning. View his presentation here:
https://fctsolder.com
Tony may be reached here:
tlentz@fctassembly.com
https://fctsolder.com