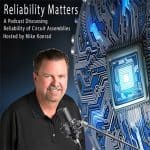 Tips and Tricks for Successfully Cleaning Circuit Assemblies
In the last half of the 20th century, cleaning of circuit assemblies was a standard assembly practice. The abolishment of popular CFC-based cleaning solvents ushered the introduction of "no-clean" assembly processes. For much of the electronic assembly industry, cleaning became nonexistent.
Due to assembly and component miniaturization and the explosion of both IOT and automotive electronics, which places many circuit assemblies into harsh environments, the practice of removing harmful ionic contamination from circuit assemblies has once again become a mainstream practice. Today, the majority of electronic assemblies are cleaned. And, for many assemblers, cleaning is a new process.
This podcast will present modern best-practice cleaning techniques including:
– An historical look back at cleaning
– The reason for cleaning
– Reasons for cleaning no-clean flux residues
– Conventional cleaning technologies
– Estimating throughput capabilities on batch and inline cleaning systems
– Do's and don'ts of cleaning circuit assemblies
– How to choose a cleaning chemical (if needed)
– How to determine the assemblies are clean during the cleaning process
– How to determine the assemblies are clean after the cleaning process
– New IPC Cleanliness assessment standards
– Environmental mitigation techniques
– Calculating the per-assembly cost of cleaning
– Keeping your cleaning machine in top-working order