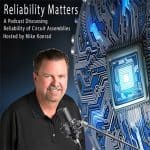 Part 2 of our Conversation with Tim O'Neill and Fred Dimock on Oven Profiling
Welcome to episode 65 of the Reliability Matters podcast. This is part 2 of our conservation with Aim Solder's Tim O'Neill and BTU's Fred Dimock. On this episode, we'll dive into oven profiling best practices.
Timothy O'Neill is the Technical Marketing Manager for AIM Solder. Operating out of AIM's U.S. Headquarters, Tim is responsible for developing and optimizing product and technical information, collaborating with complimentary suppliers and equipment manufacturers and ensuring AIM's products exceed expectations and meet market requirements.
Tim is also a technical writer and presenter for industry trade publications and events. He has co-authored several papers on PCB assembly subjects.
Tim is also an IPC-A-610 Certified IPC Specialist.
Fred Dimock is the Manager of Process Technology at BTU International and recently started a consulting business, FCD-Global services.
Fred holds an Associate Degree in Mechanical Design from Wentworth in Boston and a Bachelors Degree in Ceramic Engineering from the State University of New York.
Fred has authored numerous articles on lead free solder, process control, and the operation of continuous furnaces. His papers have been published in English, Chinese, and German.
He has taught numerous SMTA solder reflow classes and participated in the 5-45 Subcommittee for the development of IPC-7801 Reflow Oven Process Control Standard.
Additionally, he wrote the chapter on solder reflow for the Handbook of Electronic Assembly and A Guide to SMTA Certification by Dr Lasky and Jim Hall.
He received Distinguished Speaker status at SMTA Guadalajara Mexico and is a key presenter for the SMTA Jump Start program for new engineers.
Tim O'Neill may be contacted here:
toneill@aimsolder.com
Fred Dimock may be contacted here:
fdimock@btu.com