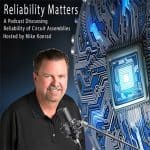 A Conversation with X-Ray Expert Keith Bryant
Episode 42: A Conversation with X-Ray Expert Keith Bryant
Keith discusses the advantages of x-ray technology, its practical uses, and common mistakes made when using x-ray technology. 
Keith's Bio:
A fully qualified engineer, Keith has over thirty years' experience in Electronics Manufacturing. He is well known and respected for presenting technical papers at many high-profile events around the world and for his many published articles and interviews.  
He started his career in this industry with bare printed circuit boards in the early days of high-count multi-layer technology, moving through to running contract manufacturing operation. He had ten years' experience with advanced materials and soldering systems before working with high technology x-ray and AOI Systems, again for 10 years.
Then for almost 3 years Keith worked as a technology and business consultant, assisting many of the major industry names.
From 2017 to 2019 he was Global Sales Director of the leading x-ray manufacturer. Last year reverting to a technology and business consultancy role allowing him to pursue other interesting projects, including i4.0 and working with an advanced x-ray tube manufacturer.
He was Chairman of the SMART Group for 11 years and is now Chairman of SMTA Europe, in 2018 he was presented with the SMTA International Leadership award.
Keith's Contact Information:
Email: Keith@KeithBryant.net