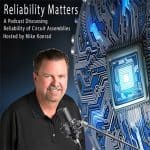 The Integration of AI Into Inspection Systems
When it comes to circuit assemblies, there are defects, which result in one of two situations. The preferred result of a defect is to capture it on your factory floor and repair it before it ships to the customer. The second scenario is referred to as an escape. That's when the board ships to the customer and fails in the field. This is a scenario, all assemblers dread and strive to prevent. One way to prevent escapes is through the use of automated inspection or AOI systems.
My guests today are Arif Virani, Chief Operating Officer and co-founder of Darwin AI, and Bart Piwowar, CTO of Darwin AI, a manufacturer of innovative inspection systems.
Arif Virani is a technology leader with over 20 years of experience in the industry. As Co-founder and Chief Operating Officer of DarwinAI, he spearheads the company's mission to transform manufacturing with a new standard for quality inspection using AI. DarwinAI's solutions have been implemented at the top Electronics Manufacturers to increase quality and efficiency, while reducing waste. DarwinAI was selected by CBInsights for its AI 100 annual list of the 100 most promising private AI companies in the world in both 2020 and 2021.
Before founding DarwinAI, Arif had a successful career in management consulting at McKinsey & Company, where he advised F500 enterprises on technology investments and transformation. He led several technology-enabled programs, including building and commercializing data and analytics capabilities. Arif started his career working as a software developer at various technology companies. In addition to his work at DarwinAI, Arif is an Advisory Board Member of NGEN Canada's AI for Manufacturing Initiative. He has a Master's in Business Administration from the University of Pennsylvania's Wharton School and a Bachelor's in Applied Science (Computer Engineering) from the University of Waterloo.
Bart Piwowar is an experienced Product Leader, leading high performing product teams driven by data to deliver solutions that solve customer's problems. He has spent many years leading data science teams, applying Innovation methodologies, and working with emerging technologies to bring solutions in many disciplines. He graduated from University of Waterloo with a degree in Physics and Computing and later followed with an MBA from Wilfrid Laurier University.
Bart's career interests range from AI product development, decision science and entrepreneurship.
I met Arif earlier this year at the IPC APEX Expo in San Diego California when he introduced me to his company's automated inspection system.
Needless to say, I was truly impressed with their technology and I'm thrilled to have him as my guest on this episode of the podcast.
Contact Information:
Arif Virani
arif@darwinai.ca
https://darwinai.com/
Darwin AI's YouTube Channel:
https://www.youtube.com/@DarwinAI