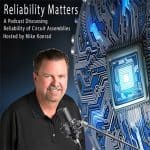 2021 Reliability Matters Episode Wrap-Up
Welcome to this special edition of the reliability matters podcast. unlike other episodes, this episode has no guests. At the time of this recording, we have 85 published episodes with more than 16,000 downloads. The reliability matters podcast began as an experiment. I figured we would produce about 10 episodes on various subjects and then move on to something else. Well, I was wrong. I have received countless emails from listeners thanking me for the podcasts stating how much they enjoy listening. The thank you goes more appropriately to my guests. Without them, I would simply be another talking head. And who needs more of those? While my goal was to provide educational material for the electronics industry, perhaps it is me that has learned the most. I am so fortunate to be able to speak to and learn from so many subject matter experts. I would like to take a few moments to thank my guests on this final episode of the 2021 season of reliability matters.
Bob Doetzer – IPC Training and certification
Christopher Frederickson – Solder Paste Inspection
Miles Moreau _Thermal Profiling
Paul Salerno – Solder Paste
Matt Kelly – IPC Technical Conference
Dr. Stan Rak
Dr. Bev Christian
Cheryl Tulkoff and Greg Caswell – Their new book: "DESIGN FOR EXCELLENCE IN ELECTRONICS MANUFACTURING"
Dave Trail – Industry 4.0
Tanya Martin, Greg Vance, Dr. Rayio Aspandiar, and Richard Coyle – SMTAI Technical Conference
James Kovacevic – Maintenance Reliability Training
Mike Buetow , Trevor Galbraith, and Phil Stoten – Meet the Press
Patrick Stimpert – Lean Manufacturing and the Toyota Manufacturing Principal
Chris Denney and Melissa Hough – Contract Manufacturing
Tim Jensen – Solder Pastes
Mark Waterman – Thermal Profiling
David Leventhal, Joan Carrol-Kennedy, and Murray Percival Jr. – Being a Manufacturers Rep During COVID
Amit Dror – 3D Printing of Complex Circuit Boards
Norman Mier – Rework and Repair of Circuit Assemblies
Dr. and Professor Ron Lasky – a profile of three of his college students:
Annaka Balch
Raaga Kannan
Nadia Clement
Tim O'Neill and Fred Dimoc – Solder Voiding Mitigation Strategies and Vacuum Reflow
Dock Brown – Reliability
François Monette – Connectivity, Data Management, Material and Process Control, Traceability, and Analytics
Sal Sparacino – Cleaning Chemicals
Elizabeth Kidd – Testing for Conformal Coat Adhesion
Tara Dunn – Fex Circuits and Additive Electronics
Dave Hillman – Causes and Possible Remedies for Solder Voiding
Dr. Eric Fossum – Inventor of the CMOS Image Sensor (who kicked off the 2021 season).
I am extremely grateful for all of the listeners and subscribers of the reliability matters podcast. Obviously, without you, we would just be broadcasting into a huge void. Thank you for your support, comments and episode suggestions, and dedication to this podcast. We live at the moment in very strange times. many of us have been in an extended period of lockdown unable to attend technical conferences. I hope this podcast and it's content have helped to fill the educational void caused by this global pandemic.
I would also like to think Mike Buetow of circuits assembly magazine for syndicating this show on his PCBchat.com podcast. I would also like to thank Fred Schenkelberg at Ascendo Reliability for syndicating this show on reliability.fm.
In January of 2021, we introduced an additional platform for this podcast. In addition to our traditional audio podcasts, we launched the reliability matters YouTube channel. Now, you can listen to this podcast in your car or on the treadmill, or watch it on your laptop, phone, or tablet. Don't miss an episode. Subscribe to the audio podcasts on apple podcast, Google podcasts, Spotify, IHeartRadio, or wherever you get your podcasts. You can also watch this podcast on the reliability matters YouTube channel. If you missed any of the episodes from the 2020 or 2021 season, they are available on your favorite podcast app or on our YouTube channel
I wish all of you the happiest of holidays and a safe, prosperous, and healthy new year. I'll see you again in January for the premier off the 2022 season of the reliability matters podcast.