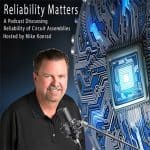 A Conversation with IPC Training Expert Bob Doetzer
Today's episode is all about training. With more young people entering the EMS industry, the need for training is higher than ever before. In this episode we'll talk with IPC training expert Bob Doetzer about the benefits of training. Both training to IPC standards and practical training will be discussed.  
Bob Doetzer, President of Circuit Technology Training, Inc (or CTTI for short). CTTI offers training in all IPC assembly specifications as well as CTI, Weller, ESD, lean six sigma, SMT Boot Camp and custom courses tailored to their customers' requirements. In addition to ongoing process and IPC support after training, they offer PCB assembly and process engineering support for Air Vac, Juki, Weller, YesTech, and Heller, among others.
They have 6 state of the art, dedicated training centers:
– Costa Rica
– Melbourne, Florida
– Baltimore, Maryland
– Raleigh, North Carolina
– Manassas, Virginia
– Rock Hill, South Carolina
Bob may be reached here:
Bob Doetzer
President
Circuit Technology Training Inc.
Phone: (844) 900-2884
bob@circuittechnology.com