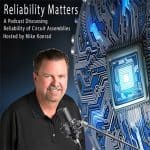 A Conversation with AIM Solder's Jen Fijalkowski About Advances in Solder Pastes
Jen Fijalkowski works for Aim Solder. Jen obtained her B.S. from the University of Rhode Island in Chemical Engineering and is a certified Lean Six Sigma Green Belt. Prior to her role as a Technical Marketing Engineer, she interned as a SMT Process Engineer, where she analyzed various reports regarding solder paste printing and co-authored "Comparison of Aperture Designs, Solder Pastes, Nanocoatings and Print/Inspection Systems", published in Circuits Assembly Magazine. 
Jen also produces a video blog titled "Line Down" where she discusses common questions about solder paste best practices and how to avoid solder paste induced line-down situations.
I spoke with Jen about solder paste best practices as well as some of the latest advances in solder pastes such as low temperature, low voiding, and high reliability solder pastes.
Jen Fijalkowski may be contacted here:
jfijalkowski@aimsolder.com
https://aimsolder.com
Technical Article:
https://tinyurl.com/3xt2cejf
Line Down Video Series:
https://www.facebook.com/AIMSolderMaterials/videos/?ref=page_internal