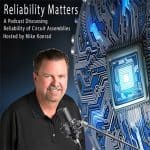 Moisture Mitigation Strategies with Dan Jenkins and Rob Lowery
Moisture. The industrial world has been fighting moisture since the beginning of the industrial world. From a general point of view, moisture leads to issues such as • Mold and mildew • Rust • Wood rot • Damage to building materials • Microbial growth • And so much more.
In the electronics world, moisture creates a host of reliability problems including:
• Popcorning
• Delamination of conformal coating
• Corrosion • Electrochemical migration
• Adhesion degradation (such as on labels and glues)
• And more
I wanted to dive into moisture mitigation, so I invited two guests onto my show to discuss this very topic.
Dan Jenkins is sales manager and partner of the Steel Camel, an industrial solutions company specializing in corrosion and water intrusion control for fuel systems and industrial equipment. Prior to Steel Camel, Dan worked as consultant and instructor in the crane accident prevention industry. He has consulted to large organizations such as Shell Oil, and the United States Department of Interior.
Dan earned an MBA from the University of South Florida and earned his BA in Industrial Arts / Technology from Cal St. University Chico and his Post Secondary Teaching Credential from San Francisco State University.
Bob Lowry has both BS and MS degrees in Chemistry. His experience includes 31 years as Sr. Scientist and Lab Manager for three integrated circuit manufacturing companies, where measurement of moisture and moisture control activities were a major part of services he provided.
Dan has 20 years of experience consulting to the microelectronics industry on a wide variety of topics including materials analysis and measurements and methods of moisture control for electronic components. Bob is also the co-author of the book Hermeticity of Electronic Packages.
Dan Jenkins' Contact Info:
djenkins@steelcamel.com
https://www.steelcamel.com/
Bob Lowry's Contact Info:
rlowry98@aol.com