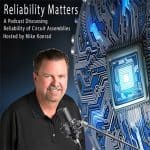 Dr. John Mitchell discusses his new book "Fire Your Hiring Habits"
Most of us are well aware of the supply chain shortages, both within our industry and well beyond. Some of us are also keenly aware of labor shortages. This show is all about reliability of circuit assemblies. While reliability is often referred to as a process, it is also rooted in culture.
Reliability begins with people. So, instead of talking about common reliability, subjects, such as voiding, soldering materials, assembly, best practices, and the plethora of other usual suspect topics,
I thought it would be a good idea to talk about people. After all, as I said, reliability begins with people.
My guest today is Dr. John Mitchell. Many of you know John as the president and CEO of IPC, one of our industries largest trade associations. John has recently written a book, entitled fire your hiring habits. I have to admit, the title is quite intriguing.
Here's a little background on John. Since 2012, Dr. John Mitchell has served as president and CEO of IPC, a not-for-profit trade association driving competitive advantage for more than 3,000 companies across the globe. Leading the global operations and staff, John manages the creation and execution of the Board of Director's goals.
Under his leadership, IPC has essentially doubled the total company membership globally as well increased the acceptance of standards by over 50 percent. John led the charge for IPC's Online Certification Portal and the company's overhaul of it Member Success department. His efforts served to improve relations with members and helped move the needle on positive regulatory change.
Prior to IPC, John was an engineer with General Electric Aerospace and was a founding member of Alpine Electronic's research company—which pioneered modern navigation systems in the U.S. OEM market. John himself holds a patent in GPS navigation systems. John then served as general manager/director of the largest product development initiative in Bose Corporation's history. He went on to become CEO of Golden Key International Society, the noted collegiate honor society serving over two-million members.
John earned his doctorate in higher education management from University of Georgia's Institute of Higher Education, a Master of Business Administration from Pepperdine University, and a Bachelor of Science in electrical and computer engineering from Brigham Young University. In addition to his work with IPC, John is an in-demand speaker and the author of two books so far (sounds like more books may be in the works… I need to ask him about that!).
Fire Your Hiring Habits is available at most book sellers including Amazon:https://tinyurl.com/fire-your-hiring-habits