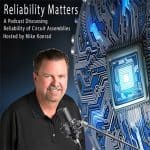 A Conversation with Dr. Darren Williams of Sam Houston State University
Episode 35: A conversation with Dr. Darren Williams of Sam Houston State University about cleaning processes and materials. 
Dr. Williams has been at SHSU since 2004 teaching Physical Chemistry, Forensic Chemistry, and graduate courses in Spectroscopy and Thermodynamics. He came to Huntsville from the US-DOE Pantex Plant in Amarillo. He taught at West Texas A&M University for four years after obtaining his Ph.D. from Oregon State University in 1997. He is originally from Fort Worth, and obtained his B.S. in chemistry from the University of Texas at Austin in 1992.
He is the author of over two dozen research articles and book chapters covering a broad range of topics, such as cleaning process changes to reduce environmental impacts, contact angle methods for cleanliness verification, prediction of the spectroscopy of aged explosives, and chemical education improvements in Physical Chemistry.
Dr. Williams leads the Cleaning Research Group at Sam Houston State University that studies all aspects of finishing and cleaning of high-value and mission-critical parts in the aerospace, medical, electronics, and manufacturing sectors. His lab has dry vapor spray, ultrasonic, vapor degreasing, and vacuum cycle cavitation cleaning equipment. The CRG formulates and tests azeotropic solvent blends, and measures flashpoint, viscosity, surface tension, and specific gravity. Much of the research is performed and published openly, but the CRG also performs contracted work under non-disclosure for external clients.
Dr. Williams created the Product Quality Cleaning Workshop in 2018 to address the growing need for education on cleaning processes in industry. The next workshop is May 13-14th, 2020 at Sam Houston State University in Huntsville, TX. Registration is now open at https://tinyurl.com/wcnjjw5