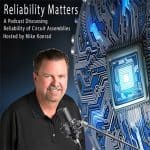 A Conversation about Business Challenges with STI Electronics' President David Raby
David Raby is President of Madison Alabama-based STI Electronics, a contract manufacturer for the EMS industry. David worked at the family business since he was a child and eventually took over the family business when his father (and company founder) Jim Raby retired.
The electronics industry moves at the speed of light and any business within the EMS industry must learn to stay ahead of technology and trends. David shares some of his experiences in taking over the family business and some of the challenges his business (and many other businesses) face on a near daily basis.
David Raby's Contact Information:
draby@stiusa.com