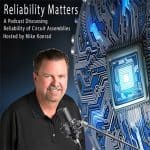 A Conversation with and a Presentation by Reliability Expert Dock Brown
Welcome to episode 63 of the Reliability Matters Podcast. Today, I'll be speaking with Dock Brown.
Dock Brown brings his more than 30 years of electronics reliability experience to clients of Ansys. Prior to joining Ansys, he spent 20 years at Medtronic where he most recently concentrated on cross business unit implementation of reliability initiatives for Class III medical devices. He was also responsible for supplier assessment and approval, on-going supplier audits, failure analysis, corrective actions, MRB, sampling, and ultimately full accountability for quality and reliability of commercial off-the-shelf and custom parts and assemblies from a worldwide supplier base. Earlier in his career, Mr. Brown also spent time at Sundstrand Data Control where he led the implementation of Boeing's Advanced Quality System program and with Olin Aerospace.
As a volunteer, he has been involved with ASQ, IEEE, IPC, and SMTA. He was the keynote speaker at the SMTA Cleaning Conference and won the best paper award at the SMTA Microelectronics Conference. He has taught on the subjects of design for reliability, tin whiskers, statistics, design of experiments, and contributed to standards development.
Today's episode is a little different than others. Dock will be sharing a very interesting presentation on the subject of reliability. If you're listening to the audio-only version of this episode, you may want to view the video version so you can see Dock's slide-deck. The video version of this episode, and several others are available on the Reliability Matters YouTube channel.
Dock Brown may be reached here:
dock.brown@ansys.com