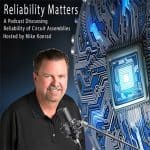 2020 Round-Up
Episode 58: 2020 Round-Up
On this last episode of 2020 there are no guests, no experts, no best-practice advice. Just a short recap of 2020. 
We just reached more than 10,000 downloads of the podcast! A HUGE thank you to my audience and my guests for making this podcast possible! On this episode I'll announce the first few guests of the 2021 season of Reliability Matters. This is looking like a terrific season!
We are now producing an audio-only format and a video format. The video format may be viewed on our new YouTube channel at:
https://www.youtube.com/channel/UC43S4–AIuSqlXvxmdsA7AQ
Please keep your questions and topic suggestions coming! Email me at:
mike@mikekonrad.com
Thanks everyone for making this podcast successful!
Mike Konrad
Reliability Matters