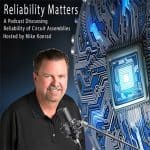 A Conversation with Rockwell Collins' Dave Hillman about Solder Voiding
Episode 60: A Conversation with Rockwell Collins' Dave Hillman about Solder Voiding
Solder voiding has been with us longer than we know. Modern X-ray inspection technology has allowed assemblers to see and quantify voiding. Metallurgical expert Dave Hillman from Rockwell Collins explains the causes and possible remedies for solder voiding. 
Dave Hillman is a Metallurgical Engineer in the Advanced Operations Engineering Department of Collins Aerospace in Cedar Rapids, Iowa. He serves as a consultant to manufacturing on material and processing problems. He served as a Subject Matter Expert for the Lead-free Manhattan Project in 2009. He has published numerous technical papers and was presented with the 2008 SMTA International Conference on Soldering & Reliability "Best of Conference" award and was the recipient of the SMTA "Member of Technical Distinction" Award. Dave was awarded the Da Vinci medal as a Rockwell Engineer of the Year. He serves as the Chairman of the IPC JSTD-002 Solderability committee. He's also a member of the SMTA where he serves on the SMTA Journal and Soldering & Surface Mount Technology Journal Technical Paper Review committees. He's a member of the American Society for Metals, the Minerals, Metals & Materials Society, and IPC.
If you're in the electronics assembly industry, you've probably seen Dave at numerous technical conferences, imparting wisdom with a style unique to Dave.
Dave Hillman may be reached here:
david.hillman@collins.com