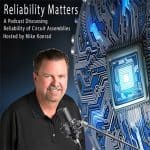 A Conversation with Industry Gurus Phil Zarrow and Jim Hall about their New Book
A couple of episodes ago, I talked to Dr. and Professor Ron Lasky about a couple of books he wrote. He also recommended a book he didn't write. That book is titled Troubleshooting Electronic Assembly: Wisdom from the BoardTalk Crypt by industry gurus Phil Zarrow and Jim Hall available on Amazon (both were prior guests on this show). Well today, we'll have a conversation with Phil and Jim about their book.
If you've been in the electronic assembly industry for some time, there's little doubt that you haven't heard of Phil Zarrow and Jim Hall. Phil has been involved with PCB fabrication and assembly for more than 35 years. Phil is the President and Principal Consultant of ITM Consulting.
Jim Hall has been involved in the electronic assembly industry for the past 26 years. He's a principal consultant and resident Lean Six Sigma Master Black Belt with ITM Consulting. He's also an instructor in the Lean Six Sigma programs offered at Dartmouth College. Together with Dr. Ron Lasky, Phil and Jim designed the SMTA's SMT Processes Certification Course.
Phil and Jim host the popular audio series "Board Talk" on Circuit-Insight.
Contact Phil and Jim:
Phil Zarrow
phil_zarrow@itmconsulting.com
Jim Hall
jim_hall@itmconsulting.com
ITM Consulting
https://itmconsulting.com