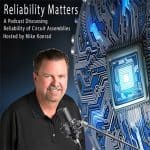 A Conversation with Flex Circuit and Additive Electronics Expert Tara Dunn
Episode 61: A Conversation with Flex Circuit and Additive Expert Tara Dunn
Tara Dunn and I discuss the world of flex and rigid-flex circuits including flex best practices when it comes to design and use of flex technology. We also discuss the new world of additive electronics.
Tara Dunn is a seasoned professional with more than 20 years in the electronics industry exclusively focused on the PCB sector. Her experience spans roles from manufacturing to sales and marketing.
Tara was the founder of Omni PCB, a technical manufacturers representative for the printed circuit board industry which specializes in quick-turn projects | PCB Design, High Density Interconnects, RF/Microwave PCBs
Tara is also the Vice President of Marketing and Business Development for Averatek which develops and licenses advanced manufacturing processes – and the key chemistries that enable them – for a variety of electronic products, including:
• very high density printed circuit boards
• semiconductor packaging
• RF and millimeter wave passive components
Tara writes a regular column for www.pcb007.com and is a regular contributor with Altium. Tara also co-publishes pcbAdvisor.com
And, perhaps most interesting, she was one of the founders of geek-a-poluza. We'll get into that and so much more.
Tara Dunn many be contacted here:
Tara@averatek.com
www.averatek.com