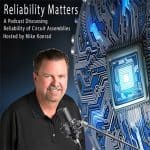 A Conversation with CMOS Inventor Dr. Eric Fossom
Episode 59: My guest, Eric Fossum is best known for the invention of the CMOS image sensor better known as the "camera-on-a-chip" used in billions of cameras, from smart phones to web cameras to ingestible pill cameras to DSLRs. 
In 2017, Eric was a co-recipient of the Queen Elizabeth Prize for Engineering, the world's top engineering prize (and considered by many as equivalent to the Nobel Prize) for the invention of digital imaging sensors. 
Eric was inducted into the National Inventors Hall of Fame and is member of the National Academy of Engineering. He is a solid-state image sensor device physicist and engineer, and his career has included academic and government research, and entrepreneurial leadership of several startups. He is the John H. Krehbiel Sr. Professor of Emerging Technologies at the Thayer School of Engineering at Dartmouth college. Eric also serves as Associate Provost of Dartmouth College for Entrepreneurship and Technology Transfer, and directs Dartmouth's PhD Innovation Programs.
Eric recently co-founded another startup with his former students, Gigajot Technology, Inc.