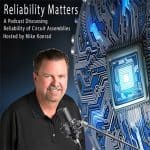 An Interview with Ventec's Technology Ambassador Alun Morgan
My guest today is Alun Morgan, he is a Technology Ambassador at Ventec International Group.
Our conversation today is all about cars, and the increased reliability expectations associated with their electrical systems. The electronics in modern vehicles provide an unpresented level of safety, not just for the driver, but for those people and objects around the vehicle. Because our cars go in and out of harsh environments, the circuit assemblies within the car are subjected toheat, humidity (and other sources of moisture), which contribute to reliability and therefore safety.
We'll discuss one of the primary failure mechanisms of circuit assemblies, an issue that can affect the operation of the safety systems within the automobile, it's a real issue that for many is not well known.
I spoke with Alun from his office in Scotland.
Alun can be reached at alun.morgan@ventec-europe.com or through LinkedIn at https://www.linkedin.com/in/alun-morgan-04050a14/