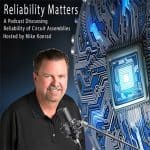 Meet the Press – A Conversation with Industry Journalists about the State of the EMS Industry
Episode 53: Meet the Press – A Conversation with Industry Journalists about the State of the EMS Industry
In this episode, I speak with Mike Buetow, Editor In Chief of Circuits Assembly and Printed Circuit Design and Fab magazines, Trevor Galbraith, publisher of Global SMT and Production magazine, and Philip Stoten of Scoop TV. We discuss the state of the electronics assembly industry, the affects of COVID-19 on our industry, emerging technologies, and more.
Mike Buetow may be reached here:
https://www.circuitsassembly.com/ca/
mbuetow@upmediagroup.com
Trevor Galbraith may be reached here:
https://globalsmt.net/global-smt-podcast/
tgalbraith@globalsmt.net
Philip Stoten may be reached here:
https://www.youtube.com/channel/UCjzfiQYhqvxKU3hwojy4onA
pstoten@me.com
Plus, here is the video of the conversation.