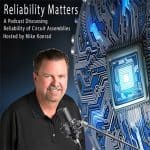 Best Practices for Purchasing X Ray Equipment
In this episode I speak with four experts about best practices for purchasing X ray equipment.
There are numerous manufacturers of X ray equipment each with multiple models with varying capabilities. Which type of X ray equipment is right for your application? What are the price ranges? What are the specific capabilities? What questions should I ask when speaking with manufacturers of X ray equipment? How do I define my needs? 
These and other questions will are answered by our expert panel.
Our expert panel includes:
Keith Bryant of Keith Bryant Consultancy. Keith has more than 30 years in the electronics industry and has worked for and with X ray equipment manufacturers.
Keith may be contacted here:
keith@smta.org
Dr. David Bernard of David Bernard Consultancy. Dr. Bernard has more than 20 years of experience in the X ray industry and has worked for and with X ray equipment manufacturers.
Dr. Bernard may be contacted here:
dbc@bernard.abel.co.uk
David Kruidhof is the Sales Manager for Creative Electron, a manufacturer of X ray equipment.
David may be contacted here:
dkruidhof@creativeelectron.com
Robert Boguski is the President of Datest, an analytical laboratory specializing in failure analysis. Robert is a user of X-ray equipment.
Robert may be contact here:
rboguski@datest.com